INMA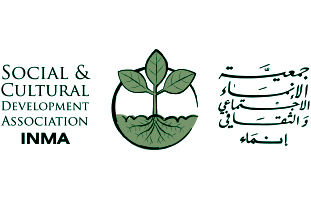 Tasks and Objectives
The Social and Cultural Development Association (INMA), is a non-profit governmental organization, founded in 1997, which scope of activities is normally based on servicing a cluster of villages and specific neighborhoods throughout Lebanon. The projects cover health, education, environment and income generating activities. Since 1997, INMA's projects have proven to be successful and sustainable. INMA's objectives include:
• Create job opportunities for the inhabitants of Lebanon's rural areas especially women through the provision of vocational training and income generating activities.
• Raise the educational level of youth and children through computer training centers and languages courses.
• Ensure essential health care services to targeted communities through an established and operational health clinic.
• Promote community-based children programs through summer camps, and safe playgrounds.
• Enhance community awareness, basic rights and involvement in environmental and other development issues through workshops and conferences.
• Assist in infrastructure and housing projects development in rural areas with emphasis on environmental and cultural factors.
• Empower and assist other NGOs in their endeavor to reach their goals.
INMA has over the past years implemented projects and activities in Lebanon including:
Income Generating Programs and Agricultural Activities
Health Activities
INMA's Health Service Center
Environmental and Educational Programs
Publications By Inma (Civic Education)
Transparency and Accountability
The Civil Community and the Meaning of Citizenship
Law, Management and Development
Open Session for all Municipality Elections Candidates in Kefraya and Neighboring Villages
Awareness workshops on the major environmental problems and treatments in 9 villages in Baalbeck.
Workshops aimed at raising awareness on the correct usage of the different kinds of pesticides and the treatment of plant epidemics in Nabi Othman (Baalbeck)
Distribution of an agro-calendar for irrigation, pesticides, and soil treatment.
Distribution of brochures on the major pests and diseases that affect rural agriculture.
Tourism Programs :
Development of "Promenade" Brochures in major Lebanese cities and over 300 villages
Archeological Touristic maps (Saida, Sour, Baalbeck, Tripoli, Beiteddine)
INMA launches projects and carries out activities in specific areas chosen on the basis of need assessment survey that are conducted with the participation of the local community and major stakeholders. It follows up on its projects through a mechanism of intervention that leads to an independent and sustainable management of the project by the local community, while continuing to offer support and technical supervision.
Tourism websites constructed by INMA and SRI: www.destinationlebanon.com and www.lebanonmaps.net in partnership with Ministry of Tourism.