Founders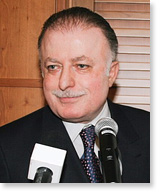 Jawad Adra
Managing Partner
Jawad Adra is the Founder and Managing Partner of Information International SAL, and Founder and President of the Social and Cultural Development Association (INMA) which was founded in 1997. Mr. Adra is a suma cum laude graduate of Santa Clara University in California, with a degree in Political Science and Economics. He is also a member of the Phi Beta Kappa Club.
Having great passion for research and the awareness that a vacuum exists in the field of survey research, database collection, and analysis in the MENA Region, Mr. Adra established Information International in Beirut in 1995 with branches and representative offices that followed in Saudi Arabia, Jordan, UAE, Morocco, Egypt and Bahrain. Since its establishment in 1995, Mr. Adra has developed the company's business and managed its projects.
Furthermore, Mr. Adra founded INMA in 1997 with the main focus of performing activities and providing assistance covering village clusters located throughout Lebanon. The broad aims of INMA include, among others, the creation of job opportunities,
the enhancement of youth education, the promotion of community-based programs particularly in agriculture, IT, tourism and civic education. INMA publishes the "Bee Series" which is specialized in civic education for Lebanese children.
Mr. Adra is the publisher of The Monthly, a research magazine that is published on a monthly basis in both Arabic and English and which tackles interesting and pertinent topics in an empirical and analytical approach. The Monthly examines economic, social and cultural issues in Lebanon and the region, in addition to publishing opinion polls and surveys and conducts interviews with prominent Arab and foreign figures in Lebanon. Mr. Adra is also the publisher of the Facts Series, a series of books in Arabic that put forth figures and indicators related to the different Lebanese sectors.
Before resettling in Lebanon after the war, Jawad Adra spent 15 years working in the Arabian Peninsula as an executive and a consultant for major construction and development organizations and for projects in countries such as Iraq, Yemen, Saudi Arabia and the United Arab Emirates.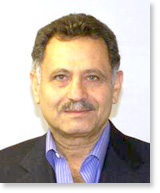 Dr. Fida Jdeed
Partner
Dr. Jdeed is Partner of Information International and has worked along with Mr. Jawad Adra in developing the company's business.
In addition to his position in Information International, Dr. Jdeed has for the past few years worked as a Technical Consultant for Intertek Testing Services, a global leader in testing, inspection and certification of products, commodities and systems. Dr. Jdeed was a major contributor in designing programs for consumer good to ensure conformity to quality standards before shipment to Saudi Arabia.
Prior to Information International and Intertek, Dr. Jdeed worked in different companies in managerial positions in Saudi Arabia, UAE and Greece. At the beginning of his career, Dr. Jdeed worked as a Research Fellow in the UCSB Marine Science Institute, California. His concentration was in In-depth research of offshore oil field production and the recorded earthquake frequencies.
These were in turn correlated with data collected from Denver, Colorado, on the earth tremors frequencies recorded in association with the underground US Atomic Energy Nuclear Tests.
Dr. Jdeed holds a Ph.D in Geochemistry from the University of California in Santa Barbara. He is fluent in Arabic, English with a good commend of French and Spanish. He has outstanding research and managerial skills. He has attended several scientific, technical and professional seminars and conferences since 1978 in USA, Europe, and the Middle East, covering Environment, Oil Pollution, Natural Resources and Energy, Chem and Petrochem Industry and Process Instrumentation. He is also member in a number of professional societies since 1978, among them: American Chemical Society, Society of Petroleum Engineers, American Association of Petroleum Geologists, American Association Advancement of Science, Sigma Chi.
Zeina Akar Adra
Executive Director
Mrs. Zeina Adra has more than 20 years of practical, management and research experience. As a Partner and Executive Director for Information International, Ms. Adra leads the Beirut-based research and consultancy firm in survey research, database collection and analysis of projects for the Arab World and the Near East in the areas of health, education, agriculture, infrastructure facilities and demographic and socio-economic studies (including project evaluation and impact assessment).
In addition to working with Information International, Mrs. Adra is Founder and Program Director of the Social and Cultural Development Association (INMA), a non-profit, non-governmental organization that services clusters of villages and specific
neighborhoods throughout Lebanon. For INMA, Mrs. Adra directs national, sustainable projects in tourism and agriculture that focus on health, education, environment, cultural and income generating activities.
Mrs. Adra has significant experience working on international development and donor-funded projects, through which she has conducted needs assessment, reviews of literature, qualitative and quantitative studies, structured questionnaires for surveys based on random sampling, field visits, training and supervising of field surveyors, analysis of data and preparation of reports. She has also established and maintained close contacts with international donors, NGOs and UN agencies, local banks, financial institutions, auditors and Government of Lebanon ministries and local municipalities, which provide her with the ability to coordinate and meet with key stakeholders and city officials throughout Lebanon.
Mrs. Adra has participated in trainings at a number of workshops and symposiums, including (but not limited to) the Credit-Finance Workshop in Amman, Jordan, the International NGO Working Group on Refugee Women in Sharjah, United Arab Emirates, the Micro-enterprise Credit Workshop in Beirut, Lebanon, the Food Commodity Workshop for USAID-Washington in Washington DC/Idaho and the Management/Strategic Planning Workshop in Cairo, Egypt. Mrs. Adra has also participated in numerous tourism and agricultural exhibitions in Lebanon and abroad including New York Fancy Food Show, ANUGA, Horeca, Garden Show and others.
Mrs. Adra holds a BS degree in Social Sciences in Marketing/Management from the Lebanese American University (formerly known as Beirut University College).